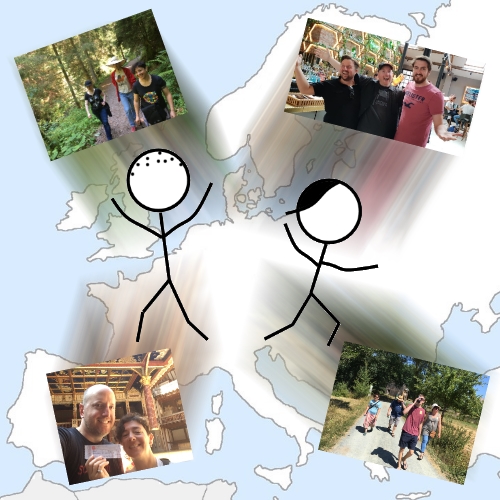 ---
In the summer of 2018, my wife Diane and I visited some friends and places around Europe. My Wikipedia BFF Willow lives in southwest Germany; Diane's childhood friend Heather lives near Frankfurt. We also toured Paris, to see the Maison de Balzac museum and learn how the French do permaculture.
And then there's the VeteranGamers. I've been doing a video-game podcast with two guys in the UK (Mike and Stu) for almost ten years — but we've never met in person. So I recruited Mike to arrange a surprise meetup. He did some excellent work recruiting folks from our community, and we gave Stu the shock of his life. (We had to be stealthy during the first part of the trip, therefore — no social media or photo-posting allowed.)
We also visited Edinburgh and London, where we climbed a huge cliff and saw Hamlet at the Globe. At times we struggled with trains and overbooked flights, but it was a glorious fortnight of adventure and fun. Strap in for some reflections and photos of our trip.
Special thanks to Cayce for helping with the arrangements; Willow, Camilla, Heather, and Matthias in Deutschland; Mike, Tahara, Stu, Kay, Millie, and the whole VGHub Crew; Inga for helping us stay connected to home; and of course Diane for being the most awesome human on the planet.

Choose a day or just click the arrow: